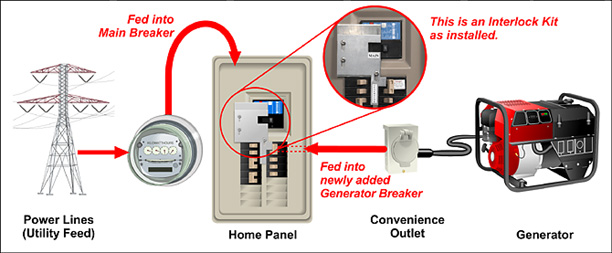 Mallory Electric installs stand alone generators and manual transfer switches for portable generators. With increasingly unpredictable weather patterns, violent hurricanes, and vulnerable utility lines, now is the time to consider what generator is right for your home.
Stand alone generators are more affordable than ever. Mallory Electric offers the most affordable packages available.
Portable generator plugs are safe, reliable, and easy to use. Eliminate extension cords and maximize your portable generator output.
The cost of a manual transfer switch often pays for itself with the cost of food not lost during a power outage.
In partnership with Generac, Mallory Electric provides factory trained personnel to assist in generator layout.  This maximizes performance and conforms to codes and specifications.  A quality installation performed by a factory trained technician will ensure proper function, warranty, maintenance and technical assistance.  As with all investments, proper maintenance is an important factor in protecting your generator.  Mallory Electric's knowledgeable staff can ensure maximum protection of your generator with our maintenance programs.

Call today to schedule your free consultation and see what package is right for your needs.